Sie­mens Ma­gne­tom Pris­ma Tim+Dot Sys­tem 3 Tes­la
TIM 4G

The 4th Generation of the Proven Tim (Total imaging matrix) - technology provides up to 204 Coil Elements with up to 128 Channels
Dot

The Dot - (Day optimizing throughput) Engine allows the MRI Examination for each Patient individually adjusted.
Compact Magnet

Shorter 3T Magnet
Homogenity: 0.25 ppm VRMS for 40 cm DSV (diameter spherical volume), 1ppm VRMS for 50 cm DSV (diameter spherical volume)
Spontaneous Quench-Rate = 0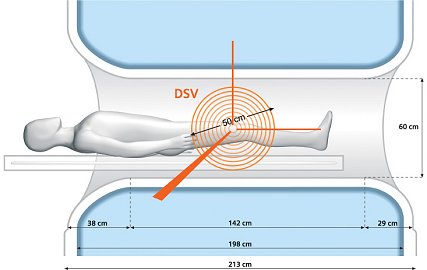 AudioComfort despite strong gradient echo frequencies.

The integrated hard- and software reduces the noise levels by up to about 20 Decibel dB (A) as compared to standard 3T MRI machines which means a noise reduction up to 90%.
Stregth of magnetic field (gradient field) up to 45 mT/m (effective 72 mT/m).
Slew Rate up to 200 T/m/s (effective 346 T/m/s).
A bigger field of view (FoV) of up to 50 cm for whole body examinations.
Rapid, compact, water-cooled gradient (RF) amplifier in solid-state-technology for a minimal TR of 1.5 ms and minimal TE of 0.6 ms with a 256 matrix.