SOMATOM Force Dual Source
State of the Art Computertomograph of the World
Since November 2014, our Institute uses the world's newest High-End Computed Tomography new benchmarks of LIGHTNING FAST in MINIMAL Radiation Dose.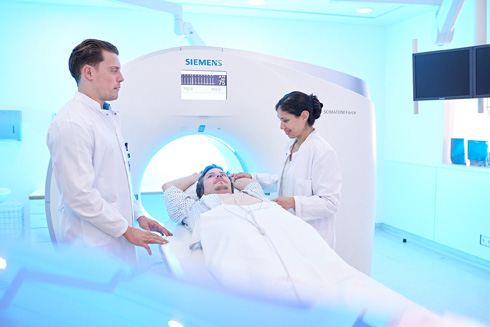 High-End Computer Tomography with Dual-Source Technology.

Fastest tube rotation time
Of 250ms and a Temporal rRsolution in Cardiac Examinations of only 66 ms

Studies in free-breathing
Possible by Ultrafast sampling Times of <1 s for the entire Trunk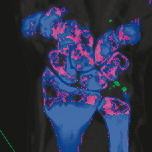 Detecting of Gout and Rheumatic Diseases

The Dual Energy CT strong> allows you to see the normal CT`s addition to the >Chemical Composition and Perfusion of tissues and organs. When Gout e.g. deposited in the painful Disease Relapses Uric Acid Crystals
proximate the affected joints from. The Symptoms of Gout are sometimes not always clear and there may be other Rheumatic Diseases as a differential Diagnosis are possible. The Dual Energy CT allows reliable Detection or Exclusion of these Uric acid deposits in the affected joints and can lead to faster at the right Diagnosis and Therapy.

Dose Protect sensitive Organs
SOMATOM Force protects against clinically irrelevant Dose Spiral CT examinations and Provides first Dose Protection for sensitive Organs.

Technical Details:

| | |
| --- | --- |
| Manufacturer: | Siemens AG |
| Source of Energy: | Dual Source (256 Row) |
| Rotation time: | 0,28 seconds per rotation |
| Spatial Resolution: | 0,33 mm |
| Temporal Resolution: | 48 ms |
| Energy Supply: | 140/80 kV |