Virtual Endoscopy
Optimization of non-invasive Endoscopic
Clinical Applictions

Nose and Paranasal Sinuses

The functional endoscopic sine surgery developed world-wide to a standard technique with sine operations. The präoperative, koronale CT-investigation of the nose beside caves is today recognized as standard method. Regardless of its surgeon needs to present an optimal combination around itself the operation place. From the spiral CT data produced virtual reconstruction relieves this work to it of. The surgeons give too the fact that a high comparability between VE and the intraoperativen impression exists. From studies run off it can be concluded that the VE of the nose and the nose beside caves represents rather a präoperative as a diagnostic support for the surgeon.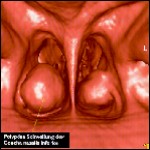 Patient with posteriorer Rhinorrhoe. Light polyp eye swelling the left lower nasal cavity.

Tracheobronchialsystem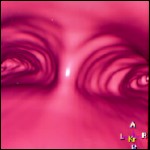 Normal anatomy of the bronchial tube forking.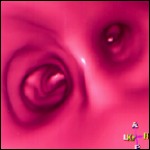 View in a subsegmentalen Bronchus (proper appearance).

Colon und Rectum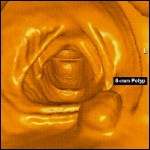 Polyp of 8 mm in the Colon descendens. The polyp was endoscopic removed. The Histologie showed a malignant degeneration.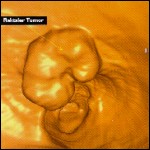 The VE permits the additional representation to the macroscopic tumor form.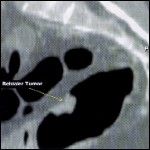 Axial picture. Polypoider tumor of 2 cm size without proof of a transmuralen growth (histological: Tumor stage pT2N0)