SOMATOM Definition AS 128-Lines Multislice
Highest Image Quality and low Radiation Exposure to the Patient.
The Somatom Definition AS is the first CT Scanner dynamic components such as the movable adaptive dose shield, a Scan Range of up to 200 cm and 78-cm Gantry. Its for a CT System with an X-Ray Tube's high temporal Resolution of up to 150 ms - Combined with up to 128 slices per rotation recorded - enables display of even finest Anatomical Details of the Heart without motion artifacts.

An Outstanding feature is the so-called adaptive 4D spiral, a new Scan Mode of the Somatom Definition AS. This Spiral makes it possible that a larger scanning Range is detected by continuous movement of the patient table and the whole heart can be functionally investigated.

With its Adaptive Sose Shield, the SOMATOM Definition AS avoids unnecessary X-Rays in all studies. So far, the Increase in the Detector Size has led to an increasing dose of Radiation - both before and after the Diagnostically relevant Scan Area. The unique Adaptive Dose Shield from Siemens, however, blocked unnecessary radiation. This ensures that the patient is only exposed to the diagnostically relevant Dose.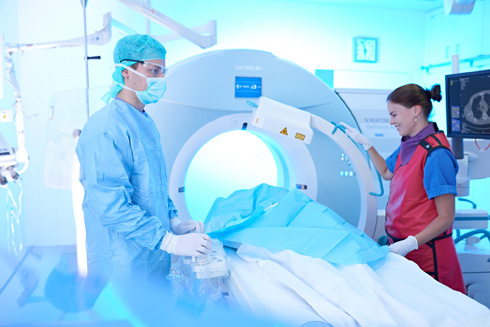 Sie­mens So­ma­tom De­fi­ni­ti­on AS

Technical Details:

| | |
| --- | --- |
| Manufacturer: | Siemens AG |
| Source of Energy: | Dual Source (64 Row) |
| Rotation time: | 0,33 seconds per rotation |
| Spatial Resolution: | 0,33 mm |
| Temporal Resolution: | 83 ms |
| Energy Supply: | 140/80 kV |