Digital Mammography
Special Radiological Examination of the female Breast
We perform a special form of mammography at our institute, digital mammography, using the Mammomat Inspiration Prime Edition from Siemens Medical Systems. In this form of examination it is not the film which is exposed but a detector which collects the data digitally or electronically.
Mammography is the method of choice for early detection of breast cancer.
The examination is conducted with compression of each breast in two different views (from craniocaudal and mediolatero-olique). The compression of the breast between the film holder and plexiglass plate is important to keep the radiation exposure to the minimum and to avoid any artefacts caused by movement. The compression can be a little uncomfortable.
The mammography is performed by a special x-ray machine which produce soft x-rays. These soft x-rays lead to images rich in tissue contrast. Through this even the smallest of non-palpable changes in breast tissue can be detected.
The reporting and diagnosis is done by two experienced consultant radiologists which brings about increased accuracy in diagnosis.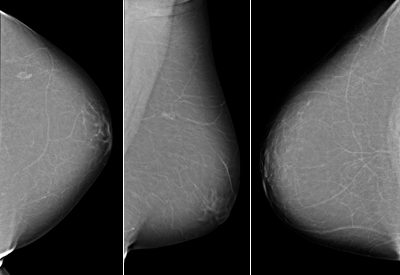 Digital mammography images of a 39-years-old female.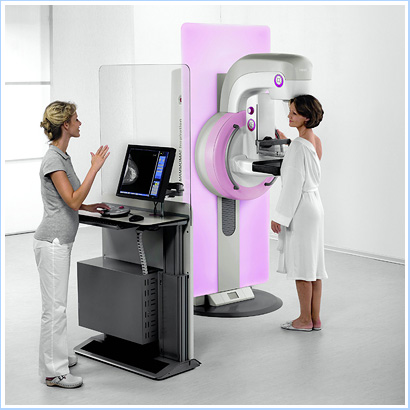 Mammomat Inspiration Prime Edition (Source Siemens Healthcare)


Mammography Device:

Siemens Mammomat Novation DR is our mammography system for purpose of screening and diagnosis.

- Tungsten (Wolfram) Technology for increased penetration and reduced radiation dose
- Bi-metal-x-ray tube: Mo/W for higher image quality
- Increased patient comfort with OpComp and SoftSpeed
- High system efficiency and quick amortisation


One must prepare herself for the examination?

One does not require a special preparation. On the examination one should avoid applying deoderants and creams on the breast and axilla region.
Please bring the previous images and reports along with you to the examination.

Which patients are ideal for mammography?

Overweight women
Women with positive family history of breast cancer
Women with diabetes mellitus
Women in their middle age who haven't given birth to a child yet (nulliparous)
Women with early onset of menarchy
Women with late onset of menopause
Women over 50 years of age.